Cao Bang is one of the most amazing places in Vietnam I've ever been to and I really can't recommend it enough for nature lovers and off-the-tourist-trail adventurers alike. Since nowadays, internet is full of information and you might get a bit lost in learning about Cao Bang Vietnam before planning your trip. In order to help you make the most of your holiday, I have summarised a comprehensive Cao Bang Vietnam travel guide in every aspect of this mountainous city based in my experience as a Vietnamese. Lets explore this marvellous city- a great destination that really needs to be discovered before it becomes fully exploited like many other touristy cities in Vietnam.
1. Cao Bang Vietnam map
Cao Bang is a province of the Northeast region of Vietnam with the international border of China. This area is well known for multiple outstanding historical and archaeological sites as well as various natural features . Cao Bang is home to 28 ethinc groups with the population of more than 500.000 people and subdivided into 13 districts , 1 provincial city named Cao Bang too.
With beautiful raw natural scenes including 5 major river systems and 47 lakes, Non Nuoc Cao Bang is also recognised as one of 2 UNESCO Global Geoparks in Vietnam. ( The other one is Dong Van karst plateau geopark in Ha Giang). The geographical setting of this area is mostly composed of limestone and sedimentary rocks dating back more than 500 million years. Besides that, Cao Bang Vietnam also has a diversified ethnic culture and been home to prehistoric people more than 20,000 years ago. The geological heritage , biodiversity and cultural diversity should be more than enough to make this province a promising tourism destination in Vietnam. However at the moment it is still unnoticed by most of travellers. Why ?
This mountainous area is one of the poorest province in Vietnam with 76 % people living in rural area and make a living through agriculture with GDP per capita 1.160 USD. Because of its poor infrastructure system, Cao Bang nowadays faces a lot of difficulties in attracting tourists compared to many other cities in Vietnam. Hope that in the near future, we can see more sustainable development in Cao bang tourism to enhance people's life here.
2. Cao bang weather
Cao Bang's climate is divided into 2 distinct seasons, the rainy season, lasting from April to September and the dry season from October to March. The best time to visit Cao Bang Vietnam is February- March or September – October when you will have a pleasant or warm temperature and limited rainfall. The highest average temperature in Cao Bang is 34°C in june, july and the lowest is 18°C in january.
Spring in Cao Bang Vietnam (February to March)
In spring, the weather in Cao Bang is cool to slightly cold with a minimal chance of rain. It is the most suitable time for outdoor activities such as trekking, hiking, cycling . Futhermore, it is the best time to enjoy magnificent scenery of green forests and meadows in Cao Bang.
Summer in Cao Bang (April to September)
The temprature in Cao Bang range between 25-35°C in summer. you may get easily exhausted if you are not familiar with this kind of tropical climate. Cycling along the countryside road is a great way to explore the amazing natural beauty of Cao Bang .
At the end of summer ( september), rain season starts in Cao Bang with regular downpours. Its the best time of the year to visit Ban Gioc Waterfall . However always check the weather carefully before heading there.
Autumn in Cao Bang Vietnam (October to November)
The weather in autumn is relatively similar to spring's which is cool all day long. Early October is the time all green paddy and terraced rice fields in Cao Bang turn yellow and get ready to be harvested. Besides, this is also the season of buckwheat flower which makes one of the most signature scenery in the highland of Vietnam . If you do not want to miss the fabulous scenery of endless shining yellow rice field or splendid buckwheat flower fields, do not hesitate to visit Cao Bang at this time
Winter in Cao Bang (December to January)
Winter in Cao Bang is cold and misty with a liitle snow. Dense fog can also occur in the winter months, and visibility on the roads is reduced.
3. How to get to Cao Bang Vietnam ?
3.1 From Hanoi to Cao Bang Vietnam
3.1.1 From Ha noi to Cao Bang by motorbike
If you use motorbikes or personal cars to travel to Cao Bang, you can follow one of the 2 options I have suggested below:
-Highway 4: Hanoi – Lang son – Cao Bang (about 292km ).( grey line)
– Highway 3: Hanoi – Thai Nguyen – Bac Kan – Cao Bang.( blue line). This way, you can combine Thai Nguyen or Ba Be Lake into your itinerary.
3.1.2 From Ha Noi to Cao Bang by bus
Take a sleeper bus to Cao Bang, the daily bus at My Dinh bus station and takes about 8 hours to reach Cao Bang City. Here you can rent a motorbike to continue exploring Cao Bang province. The best way is booking through the hotel staff in Ha noi. They will help you to call the bus company and reserve the seat . I would prefer booking a night sleeper bus in order to arrive Cao Bang in the early morning or you can book the limousine at 4.30 pm and arrive Cao Bang at 10.30 PM.
2 popular bus companies:
Thanh Ly bus : phone 0916121888
Vinh Dung bus : phone 0973755755
Ticket: 200.000 VND (around 9USD)
3.2 From Ha giang to Cao Bang Vietnam
Cao Bang and Ha Giang are two points in the Northeast mountain region. There are not many transport options for tourists. The only bus i know which run from Ha giang to Cao Bang is Hoa Binh bus company which runs around 7-8 hours. You can reserve the seat in advance through the hotel staff in Ha Giang.
If you come to Ha giang by motorbike, the best route to reach Cao Bang is via highway 34.
3.3 From Sapa to Cao Bang Vietnam
There is no direct bus from Sa pa to Cao Bang Vietnam . Normally people have to turn back to Ha Noi capital and take the other bus from Ha Noi to Ban gioc falls. This way will take at least around 15 hours so its not a good option to do so. I would prefer you to take a bus from Sapa to Ha giang province. Ha giang is a hidden gem in Vietnam which is very authentic and worths your time to visit. You can stay there in 2-3 days and then take a bus from there to Cao Bang .
4. Where to stay in Cao Bang Vietnam/ Cao Bang accommodation
Where to stay in Cao Bang Vietnam also depend on the itinerary you will follow. On my trip to Cao Bang Vietnam, I stayed in 2 different location in order to explore nearby attractions easily. On the first day when visiting Pac Bo historical tourist area, i stayed in Cao Bang city. On the second day, i stayed in Trung Khanh district in order to reach Ban gioc waterfall.
Max Boutique Hotel: this is the 3 star new boutique hotel in Cao Bang city with the great location. I must say that this is one of the best hotel I have stayed in Vietnam. The room is very stylish with extremely comfy beds (5 stars hotel beds!) and the staff are very helpful and nice. Good breakfast is also included. Price : 20€/double room.
Nhi Ban gioc homestay: 4€ for 1 person in a dorm and 8€ for a double room. This homestay is in a very good location which is near Nguom Ngao caves and Ban Gioc waterfall( 2km). A real local homestay where you get to feel the local life. It is as basic as it gets, but the service and kindness of the hosts is heartwarming.
5. Cao Bang or Sapa ?
You are still wondering if you should go to Cao Bang or Sapa in your Vietnam trip ?. I give you some clue in order to make choice easily. Cao Bang is one of the most beautiful places in Vietnam and I have to admit that especially for ff-the-beaten-path adventurers. As I have said before, this beautiful land has a diversity of forests, mountains, rivers, lake, waterfall , valley and streams that span over the horizon. However tourism in Cao Bang Vietnam is still not developed much compare to Sapa. Sapa is definitely a more developed tourist destinations with better tourism infrastructure system like luxury bars, restaurants, shopping mall, resorts or high-end store while Cao Bang has only some cheap hostels ( only one 3-stars hotel ), homestay and some local restaurants to offer.
To sum it up, if you are looking for an easier escape from Ha Noi into North Vietnam, Sapa is the best choice. However if you want to seek something very authentic, local and off-the-beaten-track, Cao Bang is your option.
6. Things to do in Cao Bang Vietnam
Ban Gioc Waterfall is the part of Ban Gioc-Detian Falls which are both located in the karst hills of Daxin County on the Chinese side and Cao Bang province on the Vietnamese side. It is the largest waterfall in Asia and the fourth largest along a national border in the world. I highly recommend using a flycam to capture the whole magnificent sight of the waterfall. Besdies, Riding on a bambo raft, Trek up to the upper level of the waterfall and kayak in Quay Son river are definitely activities that you should not miss when visiting Ban Gioc waterfall.
Time to spend: 2-3 hours
Ticket: 45k VND (2 USD)
6.2 Phat Tich Ban gioc pagoda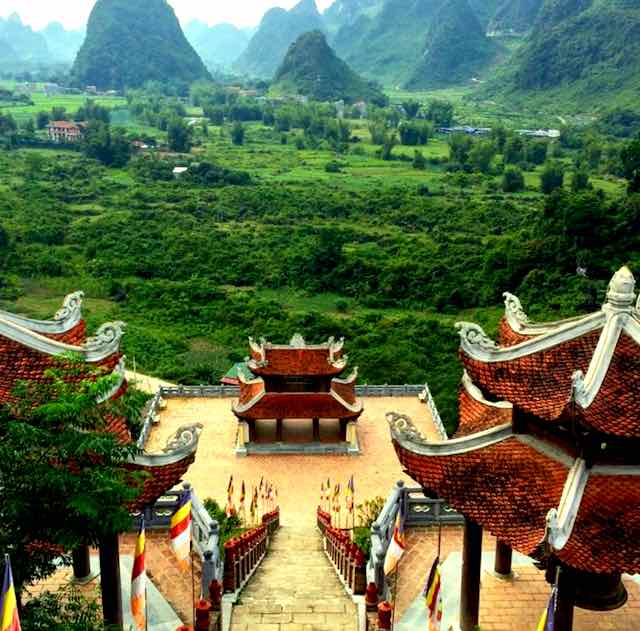 This pagoda is located only 700m right on the southwest of Ban gioc waterfall. Apart from the panoramic view of the surroundings once you arrive here, the beauty of the this pagoda will surely impress you with Vietnamese traditional architecture of a three-door gate, bell tower, drum tower, stone tablets and more.
Time to spend: 30 mintues- 1 hour
Ticket: free
6.2 Nguom ngao cave
Nguom Ngao cave is located just 3km from Ban gioc waterfall and it has been seen as one of the most beautiful cave in Vietnam nowadays by its miraculous stalagmite towers, curtains, and crystalline flowers. This 300 million years old cave is such a wonderful gift of natural mother for this highland. Setting food here, you will be amazed by a miraculous collection of limestone mountains and stalactites taking millions of years to form their unique forms today
The deeper you crawl in, the more magical and mysterious this cave is .The whole cave is mostly accessible with a concrete pathway spanning 2km and a lightning system is equipped along the path to light up every hidden structure of the cave.
Time to spend: 1 hour
Ticket: 45k VND ( 2USD)
6.3 Thang Hen lake
Thang Hen Lake is seen as the most beautiful lake in Cao Bang Vietnam with beautiful landscape. This place is included one of 36 36 small natural lakes located on the top of a hill at 1,000 metres elevation.Many tourist said that this place looks like the Shangri-La of Northern Vietnam – an emerald-colored lake in the middle of vast limestone mountain ranges and some of them flow out as steams. An unusual feature of the lakes is that the water level fluctuates depend on the season.
.
6.3 Pac po historical site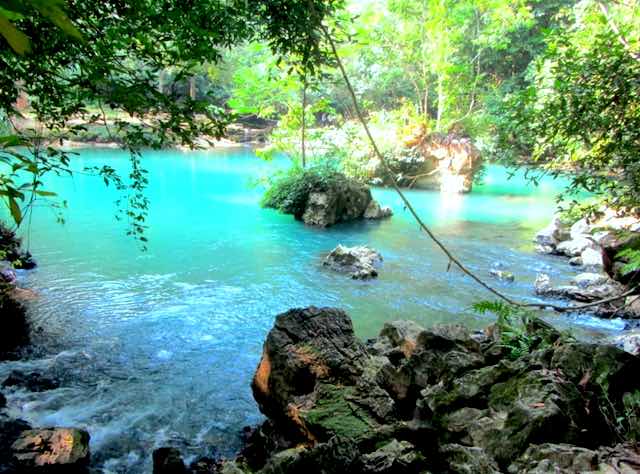 In general, Pac Bo has many attractions such as Uncle Ho Memorial House, Coc Po Cave, Lung Lan Cave, Lenin Stream, Ly Quoc Sung's House, La Thanh's house . Among these, Lenin Stream, Coc Po cave and Karl Max Mountain are three main places that you should not miss when visiting this historical site. A cave is in a large mountain range where Uncle Ho used to have revolutionary activities. In front of the cave, there is a small stream which was named by Uncle Ho – Lenin stream.
Ticket : 20k VND (1 usd). This is the ticket for a mini bus which will drive you to every place in Pac Po village.
6.5 Tuyet Tinh coc- Nui Thung valley
This valley is totally surrounded by mountain ranges. passing through marvellous countryside landscape with wildflower fields and blooming beds of grass. This is the ideal place for picnic and immerse yourself in this heaven of pristine natural sights. If you find yourself in Cao Bang, definitely don't miss it. I literally couldn't take my eyes out of it when going there . It is totally a great destination that really needs to be discovered. especially with nature lovers.
Ticket: free
Time to stay: 2 hours
Nui Thung in Vietnamese means a hole in a mountain. You can see from the picture that there is a single karst peak among those which is home to a cave that runs through one side to the other, forming a giant hole in the mountain. Thats the reason this place was named like that from long time ago. I have asked local people there and no one know exactly when this name was formed, it was just called from generation to generation. Nowdays, young vietnamese travellers (Phuot) also call it as "Tuyet Tinh Coc of Cao Bang " or mountain of god's eye.
6.7 Phong Nam- Ngoc Con valley
Phong Nam or Ngoc Con commune are both in Trung Khanh district Cao Bang province. This is undeniable an ideal place for immersing yourself in the stunning countryside landscapes of majestic mountains, winding rivers and golden paddy fields. Those places are around 15km from Trung Khanh district center, you just need to find the way to Phong Nam commune or Ngon Coc valley to enjoy those fabulous natural beauty.
6.6 Ethnic village in Cao Bang Vietnam
6.6.1 Phia Thap village
Phia Thap Village is located in Quoc Dan commune, Quang Uyen district, 30 km away from Cao Bang city. This is the home of 50 Nung ethnic group families well known with their incense making. This lovely village is set at the foot of the mountain and surrounded by green rice paddy fields, fresh green flowers and mountain ranges. You will have one of the most unique and unforgettable experience when coming there- enjoying local food, experiencing incense making, trekking or cycling around the village. This place is definitely an excellent stopovers for travellers to explore one of traditional Vietnamese ethnic village.
The incense making craft of the Nung people in Phia Thap village has a long history dating from 300 years ago and inherited from generation to generation. Phia Thap incense is entirely hand-made and made from raw natural materials which bring unique gentle fragrant. Those materials include bamboo tree named "Mai" for making stick, sawdust ,leaves of the wild tree named "bau hat" to make glue and leaves of agarwood to make unique fragrant.
6.6.2 Pac Rang Blacksmith village.
Pac Rang village is in Phuc Sen commune, Quang Uyen district- 42km from cao Bang city. This village is home to 51 families of Nung ethnic group and famous for its traditional forging . It has been said that this traditional craft has been more than 200 years in Pc Rang. You will have a chance to experience the bustling atmosphere of the forging here and seeing some women selling their home-made agricultural tools.
6.7 Phia Oac- Phia Den national park
Phia Oac, Phia Den national park is also a part of Non Nuoc Cao Bang global Geopark and those are the name of the two highest peaks in the national park. This place has a total natural area of 10,593.5 ha and is divided into 3 main zones -strictly protected area; ecological restoration area and administrative service area. It is home to many species of wildlife, especially 90 species of plants and 58 species of highly endangered animal . Since the beginning of XX century, the French had chosen this place as their resort to enjoy unique climate , beautiful landscape and biodiversity there. Nowadays, there are still some traces of villas and guesthouses of French civil servants in this national park.
I have crafted some Cao Bang itinerary that includes the top must-see sights of this upland province, a journey that will take your breath and inspire your soul. just check the link above to follow the route that is most suitable for you.
8. Cao Bang food
The cuisine in Cao Bang Vietnam is very different from other parts of Vietnam due to the population of ethnic people here. However i have to admit that, Cao bang food is one of the most amazing cuisine I have ever tried in Northen Vietnam. You can find and try some kind of food below:
Sour pho: Its main ingredient is pho noodle nevertheless its totally different with Vietnamese Beef noodle . The toppings include various ingredients such as fried pork, fried Chinese potato, pig liver, fried pig skin, roasted duck meat, roasted peanuts, and Vietnamese leaves.
Roasted duck with seven flavors: the duck is marinated with seven ingredients: ginger, garlic, shallots, peppers, honey, tofu, and Clausena indica- a fruit grown in Cao Bang's forest. This is one of the most typical Cao bang food that you should try.
Ant egg cake: the special ingredient of this dish is ant egg which is used to make the stuffing. After that, it is covered in glutinous rice and wrapped in tree leaves.
9. Cao bang Vietnam travel tips
Prepare all essential things before your trip such as Sunscreen, insect repellant, raincoat, towel, warm clothes, sport shoes, first-aids.
Cao Bang is in border with China so Do not reach the border to avoid getting unessential nuisance.
If there is a green leaf on the top of the stairs, its mean owner do not want strangers to enter the house.
The Nung people often put incense sticks under the floor to worship ghosts, you should not come near the incense tube.
The Tay people have a custom of worshiping Phi Phang Phjei (ghost of fire kitchen). Visitors should not speak loudly near the fire.
Overall, I have crafted a bundle of Cao Bang Vietnam travel information that may help for planning your trip. If you are seeking for an authentic and adventurous travel place in Vietnam, Cao Bang is no doubt for you. Hope that you will have a wonderfull and unique experience from the pristine landscapes and the colorful cultures of this highland.
Enjoy this post ? share it !
We are sorry that this post was not useful for you!
Let us improve this post!
Tell us how we can improve this post?