Dalat Market is the most famous market which is located in the central of Dalat Vietnam. This place is known as a hub of a variety of daily activities with diverse fresh fruit, vegetables, clothes and other goods. Even though, Dalat market is similar to many of Vietnam's city markets, it is still worth to to drop by for a first hand experience of a local's life .Lets discover this place to experience Dalat local life
1. Dalat market address and opening hours
Address: 10 Phan Bội Châu street , Dalat, Lamdong
Opening hours: 6:30 – 19:00
Dalat Market is located right in the center of the city, the entrance to the market is 4 Nguyen Thi Minh Khai Street. This place opens early in the morning and closes at around 6 pm daily. After that, dalat night market will be opened to serve the tourist.
Dalat Market includes 2 areas – indoor and outdoor. In particular, the sprawling outdoor area sells fresh vegetables and fruits whereas the indoor area is specialised for selling clothes, shoes, packaged food… with 3 floors and 1 basement. It is huge, colorful and bustling all the time.
2. What to buy in Dalat market ?
2.1 Fresh fruits and vegetables
This market has a variety of fresh vegetables and fruits in which the most famous one are sweet potatoes, carrots, cauliflower, artichokes, tea, cabbage, persimmon , avocado, peaches, plums, strawberries, mulberries, bananas.…
All of those agricultural products are locally grown, sold and bought during the day without preservatives. I would prefer you to make a bargain first before buying anything here.
Place to buy: Outdoor market or the basement of the indoor market.
See more: A detailed Dalat Vietnam travel guide by a local !
2.2. Woolen Garment
Dalat is definitely the ideal market for people to buy winter clothes with a variety of colourful woollen clothes and jackets. Besides fresh fruit and vegetables, woollen clothes are also regarded as one of the best souvenir of Dalat city. This is not only a livelihood for locals but also a cultural feature of the highland city. This market has many stall selling sweater, gloves, scarf or even cute animal hats. Sweater at the market has many trendy designs and good quality which are suitable for people of all age. Animal hats are sold a lot around the city and seems to be a good souvenir for children.
Price ranges from 10.000- 200.000. For one sweater, its around 100.000-200.000. For scarf or glove, they should be below 100.000VND.
Where to buy: On the second floor of Dalat day market or at night market.
2.4. Jam and specialties
Besides fresh fruits and vegetables, Dalat is also known as a paradise of jams Visitors coming here will be amazed at hundreds of different types of jam, such as strawberry jam, prune jam, kiwi jam, sweet potato jam, …Jam is made from the fruits grown in Dalat and sold all year round.
Price: 25.000-50.000VND per bag and 120.000-180.000 per kg
In addition, some other famous specialties of Dalat market are tea and wine. The most famous type of tea is artichoke tea, which is refreshing and effective in curing liver and diuretic diseases. Meanwhile, Dalat red wine is known as a good souvenir due to its rich taste. Dalat Wine is made from grapes grown in Phan Rang provine. It follows the best fermenting process without using any kinds of chemical substances and nowadays, this Dalat specialities has been exported to many countries in the world such as China, Japan, South Korea, Malaysia, Cambodia and Switzerland.
Price ranges from 100.000 to 300.000VND per bottle
Place to buy : On the first floor of Dalat market
3. What to eat in Dalat market?
You can easily have a chance to enjoy Vietnamese food in the traditional food court on the 3rd floor. The stalls here serve typical dishes of the city such as beef noodles, rice cakes steamed cake …
4. Dalat night market
In the evening from 5:30pm, Dalat night market will be opened. Thats when all the food stalls and clothing stalls open, spilling over the path ways and roads. This market offers many local favourites such as rice noodles, banh mi, Vietnamese pizza , grilled food, fresh soy milk and lovely pastries that is a delight to eat in the cold weather.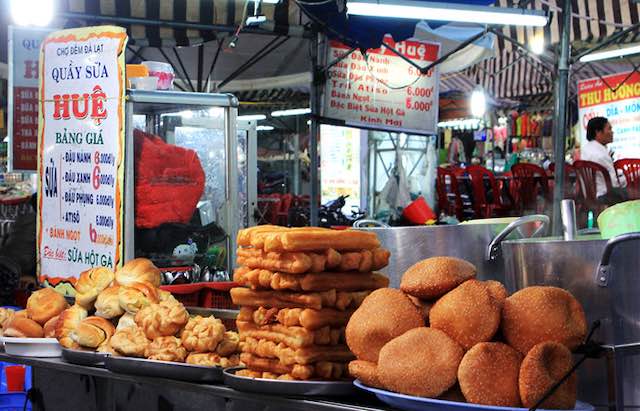 If you just want to watch and enjoy the atmosphere here, there is a stairs in the middle that overlooks the center of the market with food sold along the stairs . Take a seat, drink something and enjoy the local feel in the cold weather is definitely a cool thing to do in Dalat Vietnam. Going up those stairs will take you to town where there are more street food with Vietnamese street style. You need to eat like the locals by sitting on the little stools placed at random near the sellers and enjoy their delicious food.
All of those food is always around 10.000-30.000. Do not forget to ask the price first in order to avoid being ripped off.
Besides this place, there is also Big C supermarket which is near Lam Vien square. There is a vast amount of goods , food , various restaurants in Dalat supermarket so its easier for you to make a choice and on top of that, its very cleaned comparing to Dalat central market.



Enjoy this post ? share it !
We are sorry that this post was not useful for you!
Let us improve this post!
Tell us how we can improve this post?