Top 11 beautiful places in Vietnam voted by Vietnamese !
If you are seeking for an epic adventures with unique experiences, beautiful nature scenery, delicious foods and various in-depth historical places, Vietnam is the ideal place for you. I am glad that you have found my page and let me tell you more about our lovely country. As far as I know, there's lots of Vietnam attractions list floating on the internet nowadays. Nevertheless, I will tell you the most beautiful places in Vietnam which might be touristy or still unexplored in Vietnam that are voted by a group of more than 100k Vietnamese travellers. Lets have a look !
1. Ha long Bay
Ha Long Bay is located 170 km from Ha noi capital and a UNESCO World Heritage Site in Quang Ninh Province, Vietnam. The bay is famous for its scenic ocean karst topography and is often included in lists of natural wonders of the world. Ha long Bay is made up of 1,969 islands with several large caves which can be accessed from various ports. The perfect way to explore this fabulous world natural wonder is to jump onto a boat cruising to discover every corner of the bay with hidden lagoons and unexploited beaches. Nowadays, Ha Long Bay is considered as one of the most beautiful places in Vietnam that attracts most visited foreign tourists in our country. A unique place in Vietnam that is impossible to see anywhere else in the world !
Things to do in Ha long Bay:
Take a cruise in Ha long bay
Go diving
Visit Cat ba island
Visit Van dong island
Visit Me cung cave
Visit money island
2. Ninh binh Vietnam
Ninh Binh is located in Northern Vietnam which is just 100 kilometers from Vietnam's capital. Unlike Ha noi or Ha long bay, those beautiful places in Vietnam Ninh binh are still off the beaten track places and truly hidden gems for many international visitors. Honestly, Ninh binh is always in top 5 holiday destinations for our Vietnamese travellers but not Ha noi or Ho Chi Minh city.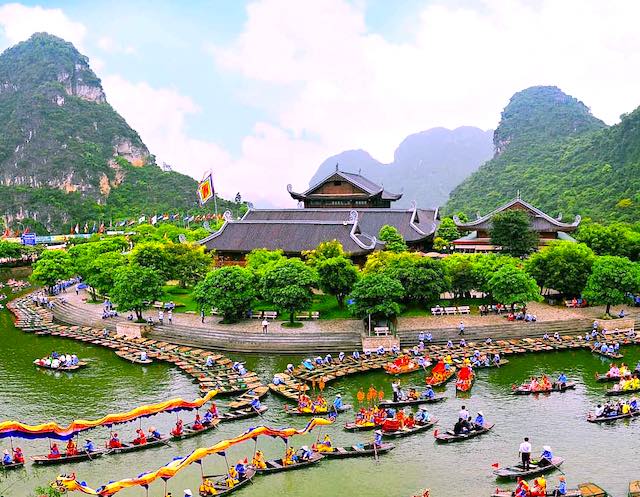 Ninh binh Vietnam attracts people with its stunning natural scenery and beautiful historical and religious sites. Vietnam's first capital was also established here and this is recognised by UNESCO as a natural and cultural world heritage too. Since this place was the filming location for the famous movie 'Kong: Skull Island', it's such an unessential thing to mention how beautiful the landscape of Ninh Binh is .
Top things to do in Ninh Binh, Vietnam:
Visit Trang An ( Trang An grottoes, Hoa Lu Temple , Bai dinh pagoda, Kong: skull island movie set)
Visit Tam coc ( tam coc rice fields, bich dong pagoda, mua cave)
Visit cuc Phuong national park
Thung nham bird garden
Sapa is a small town in Lao Cai Province located about 350 km northwest of Hanoi. This beautiful places in Vietnam is well-known for Hoang Lien Son mountain range and Fan Si Pan—Vietnam's highest peak and the roof of Indochina (3143m). This beautiful place in Vietnam is known as one of the most famous trekking destination in Vietnam. Sapa Vietnam is indeed an ideal place to escape from bustling city for a peaceful and fabulous nature. This charming highland is famous for breathtaking pass with wingding roads, fabulous terraced rice field, majestic mountains, stunning tribe village…For domestic travellers, Sapa is always one of the most beautiful places in Vietnam.
Things to do in Sapa Vietnam:
Cat cat village
Sapa stone church
Fansipan peak
Ta phin village
O quy ho pass
Ta van village
Muong hoa valley
Nowadays, Sapa Vietnam has been very well known and always in top 3 destinations in Northern Vietnam together with Ninh binh and Ha long Bay. Along with massive growth tourism, this place is fully exploited and very touristy. If you are seeking for an unknown land with similar characteristics, Ha giang would be an excellent alternative. And I would say that it is a truly legendary destination of incredible trekking and hiking routes that adventures should not miss. A unique place to visit in Vietnam !
Many people have said that Ha giang with Ma pi leng pass is indeed an unknown stunning geography treasure in the world. The wild beauty of Ha giang Vietnam is only recognised during 400km journey with majestic mountains, terrace rice fields, flower gardens, steep hills, winding roads… so I would highly recommend adding Ha Giang Vietnam to your holiday itinerary if you are an adventurer seeking for unknown land. Besides fabulous natural beauty, Ha giang also has Dong Van global karst geopark which is recognised as one of 2 UNESCO Global Geoparks in Vietnam due to its biodiversity , valuable culture and geology date from 550 millions year ago.
Places to visit in Ha giang Vietnam:
Dong Van old town
Lung Cu flagpole
Ma pi leng pass
Quan Ba ​​heavenly gate
Love market
Wang's mansion
5. Da nang Vietnam
Da nang is the fourth largest city and the most liveable city in Vietnam. This is one of the most beautiful places in Vietnam which marks halfway point between the north and the south. Not only located between three world heritage sites: Hue ancient capital, Hoi An ancient town and My Son holy land, Da nang also has various fascinating landscapes captivating tourists such as Ngu Hanh Son, Ba Na hill, Son Tra peninsula, Hai Van pass, romantic Han river …
The most attractive things in Da Nang are a good mix of centuries-old pagodas, French colonial buildings, tranquil beaches, and unique Morden buildings.
Places to visit in Da nang Vietnam:
Han river bridge, dragon bridge, golden bridge
The world cultural heritage My son
Various beaches: Son Tra, My Khe
This beautiful place in Vietnam is located 360 km from Ha noi and on border line of Vietnam & China. Ban gioc is one of the most beautiful waterfall in South east Asia and the largest waterfall in Vietnam (30m). This fall is famous by its impressive natural sights in highly scenic location. Ban gioc waterfall is a part of Non nuoc Cao bang geopark and also recognised as a Unesco heritage. Nowadays, it is mostly visited by domestic travellers and an off the beaten path Vietnam place for foreigner visitors. Hence, I would recommend you to have a try cause its totally worth your time. I promise !
Besides Ban gioc waterfall, Cao Bang province also has much various interesting places to explore such as Le nin stream, Quay Son river, Nguom Ngao cave, Nui Thung valley, Thang Hen lake, Phia Phap ethnic village….all of those places are in Non nuoc Cao Bang global geopark which is recognised with distinguishing values on cultures, history, natural landscapes ,geological heritages, and bio-diversity.
7. Phong Nha ke Bang
The Phong Nha-Ke Bang National Park in Quang binh ,Vietnam contains the oldest limestone karst system in Asia, between 400-450 million years old. This place is famous for its ancient limestone karsts and vast network of caves together with tropical forests and underground rivers.
Phong Nha-Ke Bang National Park contains various cave but Son doong and Phong nha are the most impressive one. Whereas Son Doong Cave is limited in tourist quantity, Phong Nha cave is easily accessible.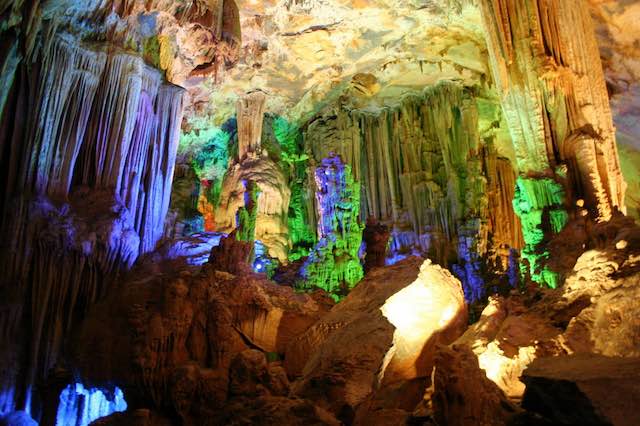 With 200m height and 150m width, Hang Son Doong is large enough to house an entire New York City block, complete with 40 story skyscrapers and nowadays it has been recored as the largest cave of the world. Currently, Son Doong Cave tour is only operated by Oxalis Adventure Tours company in partnership with British Cave Research Association .
Only 1000 tourists are allowed to visit the cave per year with a price of 3000 USD per visitor and each tour only includes 10 tourists to explore Son Doong Cave together with 30 staffs and 600kg equipments in and out of the cave during 4 days and 3 night camping in the cave. In order to discover this beautiful place in Vietnam, not only you need to have a strong financial , but also you need to have a good physical strength which is a must requirement for this trip.
8. Hoi An Vietnam
Hoi An Vietnam is well-known for its mixed architecture which reflects a blend of indigenous and foreign influences. This place used to be a trading port dating from fromthe 15th to the 19th century in Southeast Asia. This town had been seen as a powerful and exclusive trade conduit between Europe, China, India, and Japan, especially for the ceramic industry. Nowadays, Hoi An ancient town has been the most impressive tourist attraction in the central of Vietnam and I have to admit that this place is quite touristy at the moment.
Places to visit in Hoi an Vietnam:
Hoi An Lantern Full Moon Festival
Hoi an wreck
4 Hoi an museums
9. Phu yen- Quy Nhon Vietnam
Phu yen and Quy Nhon are coastal provinces in the South Central Coast of Vietnam. . Those places encompasses a diverse landscape of mountains, rivers, lagoons, bay with nearly 200 kilometres of shoreline along Vietnam's curving south-central coast. Unlike Phu Quoc, Nha Trang or Mui Ne, those places are still unexplored places and truly hidden gems in Vietnam for international visitors . Phu Yen, Quy Nhon have a variety of natural and historic sights but they are probably best known for their beaches and bays. The potential tourism of Phu Yen Province and Quy Nhon is extraordinary. Those beautiful places in Vietnam have an irresistible coastline with rocky outcrops, pine forested hills , secluded bays, seaside fishing villages and rugged islands.
Despite a surge of interest in the last few years, those places are still part of off the beaten track Vietnam beach scenes which are much more genuine, authentic and local than " other Vietnam's beach paradise".
Places to visit in Phu Yen -Quy Nhon:
Vung Ro beach
Tuy Hoa beach
Long Thuy beach
Da Dia cliff & beach
Xuan Thinh peninsular
Vinh cuu peninsular
Eo gio &Ky co beach
Cu Lao xanh island
Da lat city is considered as "Little Paris" in Vietnam due to the fact that the French had found this wonderful upland during their colonial period in Vietnam. Because of the high altitude and European-like climate, Da lat Vietnam soon became an ideal resort city and the capital of French Indochina during World War II. Da lat weather enjoys a cool climate all year round which is always in contrary to any other Vietnam tourist destinations.
Thats why Da lat is always in top 10 most favourite cities in Vietnam for domestic travellers. However honestly if this is the first time I traveled to Vietnam and I only had 2 weeks there, Dalat would not be in my must-place to visit list. In spite of the fact that my little hometown is so lovely, its not charming enough comparing to other tourist places in Vietnam.
11. Vietnam island- most beautiful places in Vietnam
With 3,000 km-long coastline , Vietnam is home to some of the world's most breathtaking islands. Many well- known beach scenes such as Phu quoc, Mui Ne, Nha Trang have undergone massive development, resulting in abundance tourist traps and non-authenticity . There are also a lot of off-the-beaten-track places in Vietnam, which are mostly visited by the local. Like Phu Quoc or Mui Ne 15 years ago, now is the right time to visit those unexplored places Vietnam before the beaches are dramatically exploited .
About 120km east of Phan Thiet, Phu Quy Island has only recently opened to tourism and well known for young backpacker domestic travellers. The island is still controlled by the military hence foreign travellers must get a permit to visit Phu Quy island. However the process is fairly easy and the scenery here is pristine and picturesque so its worth your time to do it . Phu Quy is like an island version of the mainland coastal province of Phu Yen: the attractive fishing villages, secluded bays, rustic beach scenes, inexpensive fresh seafood, friendly people. It's a charming place to spend a few days isolated from all bustling touristy places in Vietnam.
Con dao island is an archipelago of 16 mostly uninhabited islets just off the southern coast of Vietnam which is located in Vung tau province, just 230 km from Saigon. The French and Americans used to take this place as an prison site for anti-regime activists and criminals. History aside, Con Dao is blessed with stunning beaches and rich coral reefs. Con dao 's tourism image had surged in recent year since the time Brad Pitt and Angelina Jolie took a family holiday there in 2011. Lets come to explore this charming island now before resorts and any other constructions shatters the silence and serenity of peaceful Con dao island.
Places to see in Con dao island:
Nhat Beach
Dam Trau Beach
Lo Voi Beach
Con Son (An Hai) Beach
Dat Doc Beach
Dam Tre Bay
Ben Dam Bay & Port
Besides, there is also various unexplored Vietnam islands such as Nam du island, Binh Ba – Binh Tien- Binh hung island, Nam Hai island, Hon Noi, Hon Mun island in Nha Trang…Those beautiful places in Vietnam all have outstanding and untouched coastal scenery. Nevertheless, tourist infrastructure is quite limited so if you are seeking for luxurious resorts or good quality restaurant, those places might not be appropriated for you. However if you are looking for somethings off the tourist trail in Vietnam, it would be perfect to visit those islands.
One fact I have to admit that almost every Vietnam islands have the awful pollution. The infrastructure for garbage collection is very slowly being implemented and you will see trash almost everywhere. And I know that this is going to be more serious in the future !! Just try to be a responsible traveller to decrease the impact of tourism on those place's environment when you come there !
Above is the list of 11 most beautiful places in Vietnam voted by young Vietnamese travellers. There are still many other fabulous places which are off the the beaten track in Vietnam such as Moc chau Son La, An Giang, Dong thap, Kien Giang, Dien Bien….Hope that this list will help you easily decide your places to visit in Vietnam for your next holiday. Have a nice trip !
Rate my post
Average rating / 5. Vote count:
Danh sách một số website cần thiết cho quá trình du lịch của bạn: